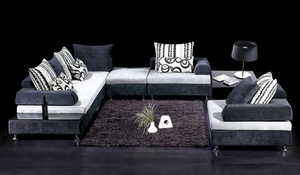 A home that is decorated in Southern style pays tribute to hospitality, comfort and simple elegance. Southern style homes celebrate strong architectural elements while showing off a sense of family and history. When you decorate your home in styles from the South, turn to the virtues, traditional and cultural heritage of the region for inspiration. Open French doors, shaded porches and high ceilings are some of the distinctive elements of Southern style homes. Creating a home that welcomes friends and family is one principle of Southern home decorating while outdoor pictures, fresh flowers, simple lighting and natural materials tie together a Southern home.
However, this does not mean that you cannot create such a space with contemporary living room furniture. With a few tweaks, adjustments, and layering, you can create the homey look of Southern homes even with modern pieces. Here are some tips to help you out.
Use light colors with vibrant accents
Southern style homes feature natural wood floors and rooms and furniture with light colors. Pastels, whites and off whites enhance the natural lighting and openness of a room while darker colors absorb the heat that is so prevalent in the South.  The Supremax Q 01 Excess Sofa by Innovation Living should make for a great sofa piece.
Vibrant colors work best when they are selectively used and in formal fabrics like silk. This does not mean, however, that you have to paint every room in your home a white hue. Pick natural colors and shades that remind you of the shade of trees and the blue skies. These relaxing colors will complement colorful decorating accessories like throw pillows, vases and lamps.
Decorate with materials that reflect a home's exterior space
The structure and design of Southern homes are heavily influenced by the warm climate of the region. Because of this, light materials like thin linens and cotton are used instead of heavy drapes and thick upholstery. Fabrics should feel airy and natural, allowing you to better appreciate the natural lighting and cross breezes of your home while still getting shield from the harsh midday sun.
A few wicker pieces like a big chair in your living room will add a gentle touch that expresses the warmth and livability of a home. The Horseshoe Bay Chair by Zuo Modern should be a great choice. Plus, it has a rocking mechanism that makes for a great place to relax.
Create a sense of hospitality with furniture and accessories
Southern culture is popular for its  charm and hospitality. An open entryway, big dining tables with plenty of seating and big couches like the Contemporary Blue Microfiber Sectional with White Seats by EHO Studios would be a welcoming sight. Also adding a few framed family photos and baskets of flowers make for  a sense of strong social values.