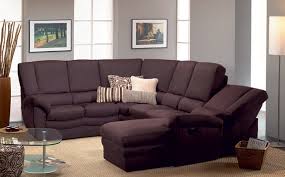 If you talk to most interior designers on furniture advice for a small living room, they would mostly advise against getting living room furniture sets. They can be bulky, they say, and take up so much space. But with the right pieces, and the right arrangements, you can definitely put them in your living room with ease. Here are some decorating tricks to help you out.
Choose visually lightweight furniture. Pay attention to the visual weight of the furniture pieces, and not its actual size. Light-colored furniture or those that come with legs appear lighter than those dark and boxy upholstered pieces. Take for instance the 2 Piece Italian Leather Sectional by EHO Studios. In such a small living area, such leggy chairs will not obstruct views of the passage or the floor, so the space feels more open. Incorporate a glass and metal coffee table which consumes minimal visual space.

Enlarge space with white. A small living room escapes feelings of confinement with the use of white, like having white walls and pale floors along with white upholstery. When the elements of a room are unified by white, the space gives off a cohesive feel.

Use small scale furniture. Choose furniture in a scale that is appropriate for the room and the people who will use it. The sleek design and small scale of the Citadel Sofa Chair 3 Piece Set by Diamond Sofa perfectly suits a small living room. Armless chairs would also be a good idea because its additional lines and shape will not make a small room feel crowded.

Carve out a corner. In an open floor plan, keep a section in the living room with one or two love seats and two chairs, a coffee table, and a rug. In this space, such seating placement distinguishes a living space from the dining area beyond. Including a coffee table might seem counterintuitive, but using a few large pieces in a smaller space simplifies the room.

Use an ottoman for a coffee table. A big upholstered ottoman can double as a coffee table when you add trays to give a flat surface for a vase of flowers or drink glasses. The Zen Collection Left Facing Chaise 2PC Sectional with Square Cocktail Ottoman by Diamond Sofa comes with a great ottoman that can double as a spacious coffee table.

Create clear traffic paths. Arrange furniture so that it directs traffic around the conversation corner instead of through it.
Now that you have these ideas for your small living space, you can now shop for new furniture and start furnishing your home.