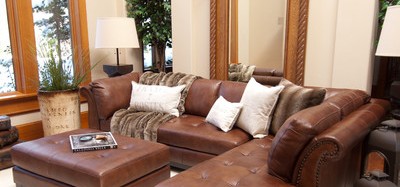 Many people have asked if it is okay to use big furniture in their small living space. This is after reading in design magazines advice  saying something like "Just because you live in a studio apartment does not mean that can't have a king-sized bed or a large sofa." We always end up refuting this because unfortunately that is exactly what it means. Our goal is to be upfront with customers in the kindest and most helpful way possible.
Of course, we are not exactly suggesting that if you live in a 300-square feet space, you are only limited to dollhouse-like small living room furniture. What this means is that you have to pay attention to one aspect that only a few people do — scale. Scale is determined by visually comparing an object to the space around it. The more space that your furniture will take up, the smaller the room will appear which, as many of us would agree, is generally not a good thing.
But if you have a room filled with slim and miniature furniture that is  not your style, and yet have limited square footage in your living room, here are some tips to help you make the most of your space.
If you like a comfy and overstuffed look, apply it to a chair and ottoman and keep your sofa simple. Or you can just pick a fluffy loveseat like the City Loveseat by Diamond Sofa and just skip the sofa altogether.

Pick furniture that does double duty and gives you extra storage space. It does not have to be modern — trunks vintage filing cabinets as end tables or coffee tables with inside storage like the Chateau Top Grain Leather Storage Ottoman in Mahogany by Elements Fine Home. Also consider using 2 dining chairs as occasional chairs in your living area. Determine the least amount of furniture that you can get away without compromising your needs.

Critically take a look at your seating groups: is it easy for people to enter and exit it? If they will have to step over an ottoman and around an end table just to get into a chair on the far side of the room, you might have to do some rearranging. Otherwise, get yourself a new set. The 2 Piece Sectional with Hardwood Frame by EHO Studios comes with a simple setup that anyone can easily maneuver in.

Think about scale. Does your furniture look too big for the space? Does it look big when compared to the other furniture pieces in the room? At times, all you need is changing out an elephant in the room to bring everything together.
So what do you think? Can you actually fill a small space with big furniture and still give it a spacious feel? Sure it will depend on you and the requirements of your home.  We hope that we have provided you with enough information and that you are one step closer to dream living space!