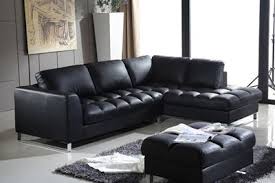 Jane and Matt are a new couple from the city who are having issues  decorating their decent size house with the large, dark and manly leather living room furniture  that Matt had just selected and purchased. They do not have many windows and their walls are light beige. Jane, who loves decorating, does so with blacks, whites and beiges, but she just feels actually stuck on this one. And, now, she is asking us for suggestions to make the room feel lighter and more feminine.
This is a pretty common dilemma, because many people own leather sectionals and sofas, and pieces upholstered in a traditional dark hides can feel visually heavy in a space. But this should be less about making a room more feminine and more about decorating a room that is balanced with clever layering and accessorizing. Here are 5 ideas to decorate around leather sofas.
Lighten Up
The traditional leather sofa is dark by nature is the easiest way to balance everything is to accent or surround it with plenty of light to create a desirable contrast. White or cream accent pillows, a paler hue on the walls, or a light coffee table like the Antiqua Round End Table by Allan Copley Designs should accomplish just that.
Break It Up
Another way to minimize the visual weight of a set of leather furniture like the Valentino 2PC RF Chaise Pillowtop Sectional & Ottoman with Metal Leg by Diamond Sofa is to just break it up. Keep the sofa and find a place for the other pieces. You can then just supplement with upholstered chairs to create a collected and chic look instead of going all matchy-matchy.
Layer Around It
A leather sofa that sits all on its own will tend to dominate the space, so do not allow this to happen. Take the focus away from this piece by layering a room with other furnishings in various finishes from end tables to ottomans to console tables. You can also bring in living trees and dynamic artwork. Add pale fabrics for contrast and metallic accents for an interesting texture.
Study Retail Styling
Many retail stores do a great job of styling leather sofas in a room scene. Pay a visit to the nearest one in your area and take a cue from the way retail stylists layer with throw blankets and pillows, and then surround it with various furniture in various textures and colors. The contrasting color of the Arturo Chair by Nuevo Living should look good alongside a leather sofa.
There are still so many tricks to detract from a big leather sofa. But the comfort that it brings to your home gives you a reason to love it. Because at the end of the day, if the family loves it, then you will have to go with it.