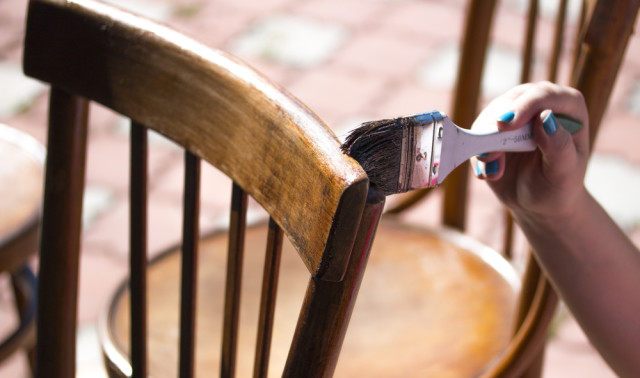 Make a new beauty out of an old piece with a little patience and a good repainting job.
Sometimes, our furniture just calls for a new paint job to restore it's old glory back. It can't be that hard right? We'll not if we are expreienced, but for the rest of us, it is a must to know some tips before doing your own repainting of furniture.
Now instead of giving you tips on how to do it the right way, I'll share my mistakes instead so that you'll learn how to avoid them and do a great job.
1. Not using Sander cause it feels smooth already. Even if the furniture looks dolphin-smooth, chances are, you still need to sand them for better results. There are paints or primers that claims no sanding is necessary, but basically it is a must. When sanding, make sure to control the pressure as your goal is only to smoothen, and not to strip the surface up. You may use a 150-grit sandpaper, or an 80-grit if there is an exisitng varnish already.
2. Forgetting to remove residue. As much as possible, make the surface as clean as can be – which includes removing the residue. It is highly advisable to use a tack cloth instead of a paper towel or lint-free cloth. Tack cloth does the job and you don't need no other kind.
3. Not Using a Primer. Specially for laminate furniture, never forget t use a primer. It is best to use a mini foam roller and a foam brush for those hard-to-reach areas. Before going to the next step, always make sure to let it dry fully. Once it's fully dried, just sand away those extra drips and follow it up with a wipe (tack cloth).
4. Rush or Impatient Painting. With the smoothness and cleanliness assured, it's now time to paint. A mini foam roller would definitely do the job. Make sure apply about 3 thin coats and allow about 6-8 hours in between coats to ensure quality for the paint job. It is also very important to sand in between coats, to make sure everything is leveled and softened up. You may use the same sanding block, but always use a new tack cloth to make every speck of dust is removed before proceeding to the next step. This is one of my biggest mistakes, and I have reach a point of blaming the opened environment, or our dogs for the pieces of dust after painting, but it was in fact because I failed to remove everything with my tack cloth.
5. Forgetting to Apply Protection. Now that you're almost done, make sure all the efforts last longer with a coat of Polycrylic water-based protectant. Make sure to apply smoothness when doing this process to avoid having bubbles from foam roller use. Once the process is done, allow a safe 72 hour drying time before using the furniture again. This will help prevent it from being sticky.